The (temporary) transformation of ReBAR
The mother of invention is necessity!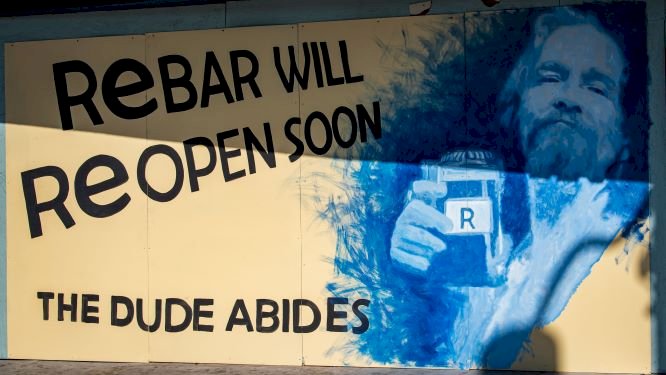 photo by Tommy Beauregard
this article was written in conjunction with Jessica Johnson
As a business owner, talk about your initial reaction when the coronavirus pandemic became cause for a national shutdown of our everyday way of life?
It was unbelievable. Literally, I did not believe what was happening, I kept asking my wife 'is this really happening? Are we the only ones alone at our home right now?' I honestly didn't believe that I could have my lively hood taken away from me as a business owner who was living the American Dream. Don't get me wrong - I'm not saying that I would not have shut down my business on my own, especially if customers continued to stop coming in or it was proven to be too dangerous or contributing to illness - But never in a million years did I think that my business could be shut down for something that I didn't do. It was unfathomable. But as the mural which was painted on ReBAR's boarded up windows states: The Dude Abides.
Was the idea of a drive-thru bar always a concept you had or was it an invention born out of necessity?
BoardwalkLiquors.com and the drive-thru liquor & general store is a 100% COVID-19 Battle-born business. We literally created the site online in 3 days to sell of our beer products that were going to expire, and launched on a Sunday morning. Within minutes, there were several orders placed, for hundred of dollars, and I sat and cried tears of joy and amazement that it had worked - because I knew my business and my employees would be OK. Since then I've been walking around with this amazing positive attitude, so happy to be alive again, like after I beat cancer, because I know my business, and my family and employees will be alright no matter what happens. We can turn our business model on and off within minutes, and I'm begging and pleading other business owners to move their brick and mortar online, at-least temporarily - Because honestly, BoardwalkLiquors.com is a little overwhelmed with orders and customers. I'm not a fan of monopolies - so I've been asking other business owners to follow our lead - and as it turns out, this new business has made me realize that I need competition to feel relevant:)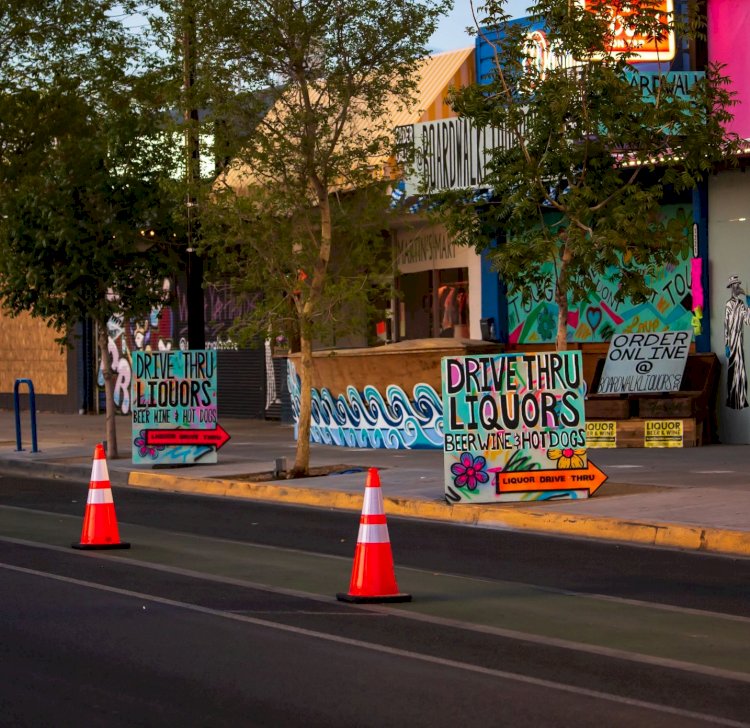 3. Where did the name Boardwalk Liquors come from?
Boardwalk Liquors came from the surrounding boarded up businesses on Main Street and in the Arts District - which have been painted by Las Vegas' amazing artists. After we started boarding up our businesses to keep them secure, we then started hiring artists to make our businesses look pretty again, and to add some color to this dark time of our lives. The City of Las Vegas realized the importance of this program and actually started a grant for businesses who board up and hire a local artist to paint on them, up to $2,000 in reimbursement funds. We're hoping to later sell the boards at an auction to raise more money for the artist who painted each board, and for an undetermined charitable cause.

Besides that, I felt we should create a new business name and online presence because the future is so uncertain, and we had such a good thing going with our other brands. I'm also am hoping that when people come to pick up their groceries and hard to find items at our 'Drive-Thru' pickup they will drive, bike or walk around the Main Street "Boardwalk" to check out the amazing works of art. We may have just created the first safe, social distancing approved, Covid-19 Battle-born tourist destination with the 'Boardwalk'
Why is the drive-thru only Thursday-Saturday?
We're only two weeks old at the time of writing this, and... breaking news: we have just expanded to add Tuesday drive thru hours as well. Honestly, we're living in a different environment, where myself, my staff, and my armed security need to be on site during any and all business hours. Liquor and essentials are hard to come by, and therefore protect. We also spend a lot of time going to our suppliers to find the hard to find items like masks, gloves, toiletries, steaks, proteins and over 400 items! We also need to inventory it, create online shopping cart items and pull orders too - so it only makes sense to be open limited hours for pickup - but the website is open 24/7! You must place orders online, we don't do any cash or transactions in person to further keep our employees safe from dirty cash and bad intentioned people.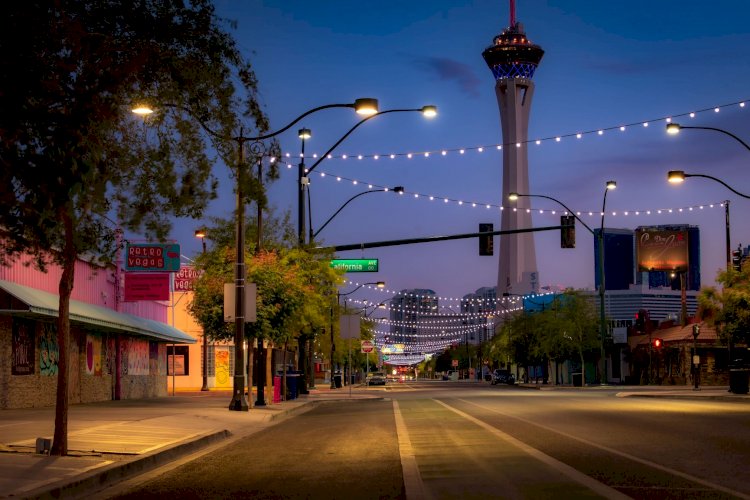 5. Any shout outs you want to give? Anything you want to say to the city of Las Vegas?

I'd for sure like to thank the City of Las Vegas for being open to new ideas and creating new policies and procedures so quickly and on the fly. They gave businesses like mine, taverns and restaurants, who are privileged license holders - the right to do curbside alcohol sales with a sale of food. We were able to take our 'curbside' to a new level by exposure by marketing it as a 'DRIVE-THRU' but technically it's just curbside. I hope we will be able to continue doing this type of business model, at-least until things get back to normal (if ever) and I want to be clear that I am building this business to help safely distribute groceries, alcohol and hard to find essential items to Southern Nevadans in a much safer environment then entering grocery stores. I am building this business assuming it will be staying for as long as I'm alive and working it, hopefully longer.
all in-text photos are from Tommy Beauregard
For more on Boardwalk Liquors and all their services, go to boardwalkliquors.com