Saying I Do Amongst Las Vegas Most Breathtaking Views
Vegas just upped the wedding game. I do!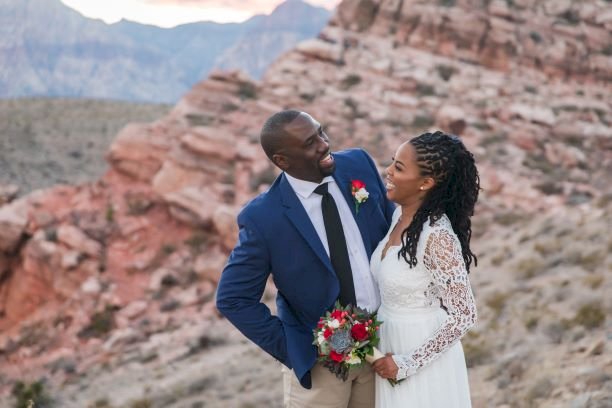 photo by Cactus Collective Weddings
by Allison Kugel
Gone are the days of the Las Vegas drive through wedding or the Little Chapel O' Love. Once thought to diminish or degrade those sacred vows, eloping to fabulous Las Vegas has become a much more romantic and picturesque proposition, thanks to Las Vegas Destination Wedding and Elopement Expert, McKenzi Taylor. McKenzi's company, Cactus Collective Weddings, helps couples plan intimate destination weddings, and yes, elopements, in Las Vegas in a new and inspiring way.
The main difference? McKenzi has taken weddings off the Las Vegas strip and into the scenic outdoor backdrops of Las Vegas' beautifully diverse terrain. "It puts a completely different spin on things, and couples walk away with breathtaking photographs," says McKenzi.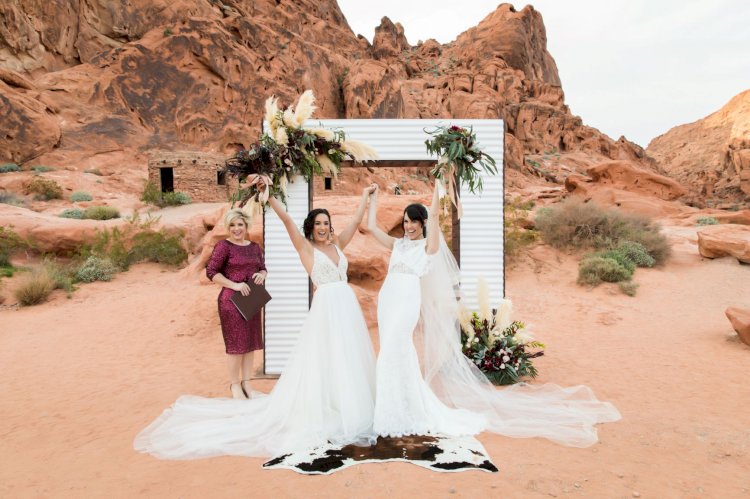 Where She Got the Idea
Both rock climbing enthusiasts, McKenzi and her husband Matthew eloped to Las Vegas where they tied the knot in Red Rock Canyon, a well-known rock climbing destination and beautiful natural backdrop. Their offbeat nuptials sparked the idea for her company and launched these rustic outdoorsy weddings for couples who fly in from all over the world.
A photographer by trade, once McKenzi came up with the idea of marrying couples in natural outdoor settings with names like Cactus Joe's, Dry Lake Bed, Floyd Lamb Park and Valley of Fire, she set about securing the necessary permits and vendors to make her vision a reality.
"People come to us looking for that intoxicating combination of glamour, excitement and turn-key ease. We handle location permits, the ceremony, a champagne and cake reception, extra added touches to personalize vows, and of course, stunning photography," says McKenzi. A Las Vegas local since 2013, she anticipates coordinating 400+ of these weddings in 2020.
"We're creating experiences for couples to get married surrounded by million-dollar views, for just a few thousand dollars," she adds. Though many of her clients choose to elope privately, some couples bring up to twenty, or even up to fifty guests with them. McKenzi does work with local couples, but most of her clients leave the details to her and fly in just before their big day.
"People now realize that eloping to Las Vegas doesn't have to be so cookie cutter. Couples can make this an elegant destination experience."
It's Cool to be Kind to the Environment
Beyond giving each bride and groom romantic memories and stunning photos, she provides couples with weddings that are kind to the environment, something she says is not common enough in the events industry, but it should be. "Our industry is the second largest producer of environmental waste, second only to the construction industry. Being that my clients get married in natural outdoor settings, I feel a responsibility to leave as light a footprint as possible," states McKenzi.
Holding these wedding ceremonies and receptions in outdoor locations greatly cuts down on energy use. From lighting to air conditioning, the energy waste is reduced to almost nothing. Another huge benefit to these natural desert settings is couples completely forego the renting or purchasing of a lot of décor, since nature has that covered.
Taking Sustainable Weddings to Another Level
In addition to marrying couples in Las Vegas' most noteworthy natural wonders, McKenzi Taylor is a stickler for working with eco-friendly, sustainable vendors who also prioritize the environment. "We try to work with farm-to-table, locally grown food vendors; cruelty-free hair and makeup vendors and florists who favor locally sourced florals and greenery. In 2019, we had a lot of requests for sustainable wedding solutions, and we anticipate more of these requests in 2020."
Las Vegas Offers the Ultimate Opportunity for Self-Expression
So many couples who opt for an intimate destination wedding or an elopement in Las Vegas do so for the freedom of self-expression the city affords. "There is still that rebellious aspect to running off to Vegas to get married," shares McKenzi. "That will never go away. It's in this city's DNA." Aside from eco-friendly weddings, Las Vegas nuptials are ripe with progressive weddings trends, from the bride and grooms' choice of apparel and theme to nonconforming rituals.
In addition to plenty of traditional couplings, McKenzi is proud of the many same-sex marriages she has produced for couples. "It's a true celebration of marriage equality that I am proud to be a part of," she says. "we've also seen our brides and grooms throwing out the traditional bachelor/bachelorette and wedding party traditions in favor of more integrated choices." McKenzi's company has seen plenty of combined, co-ed bachelor/bachelorette parties. She has also seen plenty of her brides opt for men in their wedding party as opposed to the standard bridesmaids, and grooms choosing close female friends to stand with them during the ceremony in lieu of the standard "best man."
Our couples have also had plenty of fun with their wedding fashion, from leather and lace to colored wedding dresses, and even western cowboy themed weddings.
"We are in the southwest, after all, so cowboy/cowgirl-themed weddings are definitely a thing in Las Vegas," says McKenzi. "And with the National Finals Rodeo happening here every December, we have had a lot of cowboys and cowgirls wed in the desert. Their style is spilling over to other couples who want a southwest vibe for their wedding. We did fifteen weddings with real cowboys this year, and they love to come during the rodeo."
Many of Cactus Collective Wedding's brides are also opting for bold pops of color in their florals, instead of the standard and subdued blush hued florals. "I'm personally excited about this transition. We're seeing orange, red, blue… and a lot of seasonal colors."
Just imagine taking your vows surrounded by 360-degree views of Nevada's most breathtaking terrain. "It's a far cry from getting married by Elvis," says McKenzi.
Please reach out to connect with Las Vegas Wedding Expert and owner of Cactus Collective Weddings, McKenzi Taylor.