Fun & Free in Vegas
Priceless Experiences: You can't always be lucky at the tables or the machines.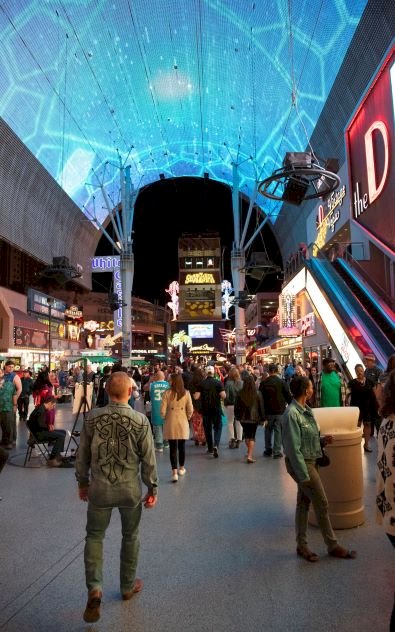 Fremont Street Experience/photo by Brian Dodd
When you're in Vegas, sometimes the money runs out before the weekend does, we've all been there. Rather than crawl off to your hotel room to lick your wounds and watch movies, you might look around our city to find attractions that are mostly or completely free. Some of these you might already know, others are bit more obscure. In any event, explore and enjoy!
Bellagio Fountains
Anyone who's seen Ocean's Eleven knows about the fountains. They're huge, beautiful and set to music. The show happens every 30 minutes in the afternoon and early evening, every 15 minutes from 8PM to midnight, it is a great photo op. But you may not be aware of – Bellagio Botanical Gardens and Conservatory – across the lobby from the front desk is the Conservatory. The horticulture staff creates a new living wonderland 5 times a year, one for each season and one for Chinese New Year. Paths and flowers and water features and trees – you could spend half a day here. More photo ops. By the way, before you enter the Conservatory, look up. Those aren't flowers on the ceiling – it's a giant glass sculpture by Chihuly: "Fiori de Como". There's art everywhere at the Bellagio.
Fremont Street Experience
Most people are aware that Old Vegas didn't really go away, it just got a face lift and a killer light show and re-branded itself as the Experience. It still boasts some of the
best restaurants in town, free concerts on the three stages on the street and the drinks are cheaper than the Strip. Fremont Street is like a huge, interactive circus all year round.
Backyard Playground at the Gold Spike
A family-friendly hangout during the day, it transforms into a nightlife venue after dark. Drinks are not free, of course, but the oversize games (chess, JENGA, LEGOs, Twister, etc) are free to play. Live music Thur – Sun, Rollerskate Night is every third Wednesday of the month.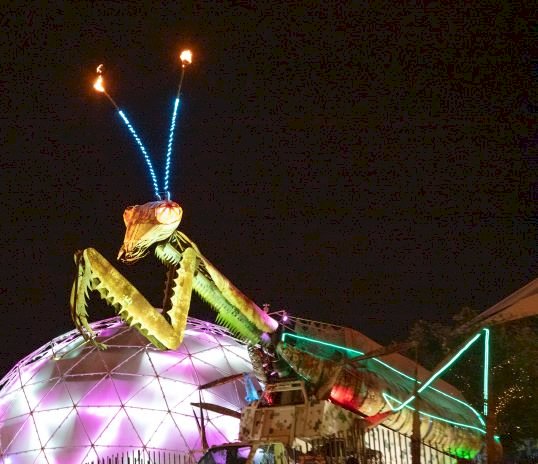 Container Park
Just south of the Experience on Fremont Street is Container Park, a nationally famous architectural experiment using shipping containers to build shops, restaurants, even a tree house. Bring the kids, there's a playground, free concerts and lots to do. Of course, there's the fire-breathing praying mantis out front and the Container Park is surrounded by individual sculptures, murals and art displays, but if art is your thing, you might be surprised to learn that Vegas has a monthly art celebration/market called First Friday.
Pinball Hall of Fame
Currently on Tropicana Ave, moving soon to the Strip. If you're a fan of old-style arcade pinball, this is the place to be. If you want to play the machines, you can – and yes, they take quarters. Each day one machine is set to Free Play – see if you can find it.
First Friday
Centered at Charleston Blvd and S Casino Center Blvd, the first Friday of each month becomes a festival of art, music, food and culture for the aesthetically curious. Most of the action happens after dark, with street performers, art displays, booths and a fleet of food trucks to satisfy all your cravings. And if you can'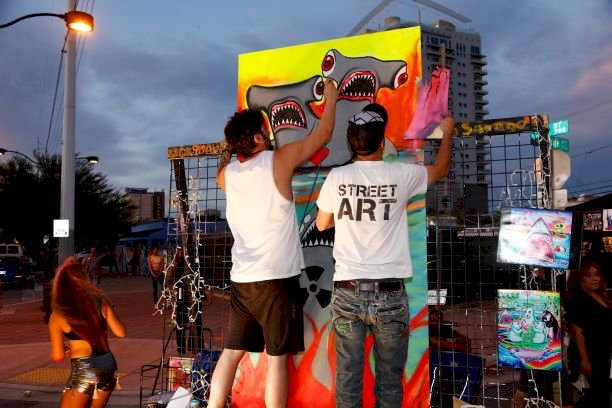 t make it on a First Friday, there are lots of galleries, restaurants, theatres and antique shops within easy walking distance. It's a nice break from the hustle and glitz of the Strip.
If you're a fan of the Cirque shows, but just don't have the hundreds to shell out for another theatrical extravaganza, here's a couple of ideas:
The Magical Technical Tour – every Saturday at 1 pm
The Beatles LOVE show by Cirque de Soleil at the Mirage opens the doors for a half hour insider's tour of this popular show.
KA Open House – at MGM Grand, provides an up-close view of how the production team creates their incredible shows. Two tours on Tuesdays, two on Saturdays.
Mystere Rehearsal Treasure Island, Saturdays from 3 to 3:30 pm, watch cast members from the show go through their paces, rehearsing for the evening performance. All shows and times subject to change or cancellation without notice, call the box office to see if the show is still on.
Other free shows include:
Streetmosphere at the Venetian – strolling actors and singers replicate Renaissance Venice in the Grand Canal Shoppes; Lake of Dreams at the Wynn – a nightly laser light show with music, holography and puppets.
Circus Acts at Circus Circus – daily, every half hour from 11 am to midnight.
The Aquarium at Silverton Hotel and Casino – this huge saltwater fish tank is home to thousands of fish, sharks, rays and ocean plants, with interactive feeding demonstrations and a mermaid show.
Or, if you're into wildlife exhibits, check out the Flamingo Habitat at …you guessed it, The Flamingo Hotel and Casino.
But seriously, what is more quintessentially Las Vegas than lounge acts?
Harrah's Piano Bar, for instance has a regular act called "Dueling Pianos" – two pianists try to outperform each other, with audience input; Harrah's also has "Fat Elvis" – considered by many to be the best Elvis impersonator in town. How Vegas is that? Check the website or the box office for show times.
Brooklyn Bowl – one of the city's premiere concert venues also has free dance parties and concerts and you can bowl a few games while you're there. Check their calendar for last minute changes in the lineup.
Indigo Lounge at Bally's – a swank lounge designed by Victor Drai, has free music and acts from 5 pm to 2 am nightly.
In fact, most of the big casinos (and many small ones) in town have free lounge acts.
Here's a partial listing:
Bally's – Indigo Lounge, Lobby Lounge
Bellagio – Allegro Room, Baccarat Bar
Caesar's Palace – Cleopatra's Barge, Terrazza Lounge
Flamingo Hilton – Margaritaville
Harrah's – The Piano Bar, Carnaval Court
The M Resort – Ravello Lounge
Mandalay Bay – Coral Reef Lounge, House of Blues
The Mirage – Onda, Ava Lounge
New York-New York – Bar at Times Square
Orleans – Bourbon Street Cabaret, Brendan's Irish Pub
Paris – Ah Sin, Napoleon's Lounge
Rampart Casino – Round Bar, Addison's Lounge
Sam's Town – Roxy's
Stratosphere – Top of the World Lounge
So you see, when the money runs low, the fun doesn't have to stop. You just need to look around Las Vegas a little to find the hidden gems amidst the glitz and glam.
Happy exploring!